Consumer Information
Please visit our new information page
CEPC COMMITMENT TO DIVERSITY, EQUITY AND INCLUSION
The Chicago Estate Planning Council (CEPC) condemns all racially influenced violence and other forms of racism, hatred or intolerance. CEPC is dedicated to promoting diversity, equity and inclusion. We strive to create a welcoming environment for all. The CEPC is committed to providing an enriching, supportive, mentoring and inclusive environment where diverse members are welcomed and retained.
Since 2013, the CEPC's Diversity Committee has focused on improving all forms of diversity, including, but not limited to, race, religion, ethnicity, gender, LGBTQIA+, and disability. In 2019, the CEPC rolled out its Emerging Leader Program. The goal of the program is to give diverse individuals with fewer than two years' experience in the estate planning field substantive mentoring and an opportunity to become involved in the work and future leadership of the CEPC.
CEPC reaffirms our long-standing commitment to the inclusion of diverse voices in our membership, programming and leadership.
Dear Members and Guests,
The Chicago Estate Planning Council (CEPC) is a multi-disciplinary organization that supports the team concept of estate and wealth planning. Founded in 1938, CEPC is one of the oldest and largest such estate planning councils in the country, boasting over 700 members this year. With the recognition that estate planning is a cooperative task, the Council started as, and continues to be, a carefully selected group of qualified professionals in their respective fields who have the necessary knowledge and experience to accomplish the broad goal of estate planning for the best interest of the client and his or her beneficiaries. Our members include attorneys, accountants, trust officers, wealth managers and advisors, financial planners, insurance agents, appraisers, planned giving specialists and other allied professionals.
The primary objectives of the Council are to: (i) foster a better understanding of the proper relationship among estate planning professionals from different disciplines and to bring those individuals together in one association; (ii) further the education of members and the public in matters of estate planning; and (iii) encourage the highest standards of professional and ethical conduct.
We have planned an ambitious series of events for this year, each designed to support the Council's mission and to appeal to its broad and diverse membership. We invite you to review the calendar and sign up for events online.
For those of you who may be new to CEPC, we have posted information about CEPC's mission and history as well as membership criteria and application procedure on the website. We look forward to having you participate in our programs and other events.
With kindest regards,
Gregg Simon, CEPC President
We are pleased to announce that the Chicago Estate Planning Council was named a 2021 5 Star Council by the National
Association of Estate Planners & Councils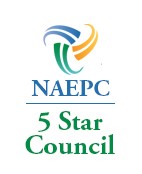 COVID-19 Risk Mitigation
All CEPC events will follow the public heath requirements of the CDC, local and state government, and the host facility to promote the safety of all participants. Further guidance will be available and shared as the applicable CDC, local and state government health requirements change.
---
Chicago Estate Planning Council is affiliated with the National Association of Estate Planners & Councils and joining can fulfill the requirement of belonging to an affiliated local estate planning council to become an Accredited Estate Planner® (AEP®) designee. Please contact the national office at 866-226-2224 to learn more about the Accredited Estate Planner® designation.